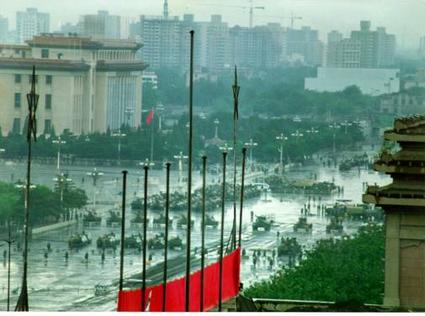 The arrest of Ching Cheong in China a few days ago should remind us all that the shadow of Tiananmen Square still hangs heavy over China and just about all it does. (Some are saying the arrest was timed to intimidate discussion and discourage dissidents from seeking to draw attention to the June 4 anniversary.) It is still the defining event with which most in the world identify China. It still keeps China from buying arms from the EU, and it still ignites China's dinosaurs into fits of apoplexy at its mere mention.
The TSM is at the heart of Cheong's arrest. The statement from China's Foreign Ministry is as believable as the 2002 official statements that SARS had been 100-percent eradicated.
"Ching admitted that in recent years he engaged in intelligence-gathering activities on the mainland on instructions from foreign intelligence agencies and accepted huge amounts of spying fees," the statement said. "Currently, relevant departments are investigating his spying activities."

But the government provided no evidence to support its allegations, and Ching's wife, Mary Lau, denied her husband was a spy. She said security agents detained him after he traveled to the mainland to obtain a collection of interviews secretly conducted with Zhao Ziyang, the former Communist Party chief who was purged for opposing the 1989 Tiananmen Square massacre and died in January after nearly 16 years under house arrest.

"It's very clear to friends and relatives that Ching Cheong has been a thrifty and hardworking patriot since a young age," she said. "We have no children and live plainly. Why would he engage in spying and hurt the country?"

Lau said she believed security agents tricked her husband, lured him to the mainland and detained him in an attempt to pressure him into revealing information about the politically sensitive manuscript and to intimidate other journalists and publishers from trying to obtain it.
Do any of us really believe Cheong gave a full confession, admitting he was spying? And do they really not understand that this is going to reignite the TSM debates, not quell them? Such obtuseness is hard to fathom, but I'm afraid it exists.
Some have said that there is an irony in that Cheong works for the Straits Times, which is subject to the whims of Singapore's well-known censorship machine. However, Singapore's track record of imprisoning and torturing journalists for their stories doesn't quite compare to the PRC's. The worst Singapore has done with foreign journalists has been to politely ask them to leave.
An interesting aspect of this depressing story is how the Straits Times has reacted.
A spokeswoman for the Straits Times expressed shock at the Chinese government's allegation. "We have no cause to doubt that in all the years that Ching Cheong has worked with us, he has conducted himself with the utmost professionalism," she said. "Until we see incontrovertible evidence, we stand by our belief that he has always acted in the best interests of The Straits Times."
Does anyone else see this as a mealy-mouthed, ultra-carefully composed statement specifically designed not to offend anybody? It says nothing except they think Cheong has been a good employee — it doesn't say a single word defending him or criticizing China for throwing their editor in jailn! What it does say is that the Straits Times (and perhaps the Singapore government, for which the paper often serves as a mouthpiece) is cowering and kowtowing in the face of an economically invincible China. How sad to see them shiver as they betray their own.
Thank God not everyone shivers in the wake of China's strength. If only the Straits Times would see him as an example.
For some utterly horrifying and heartbreaking stories from survivors of the massacre, you should read this.