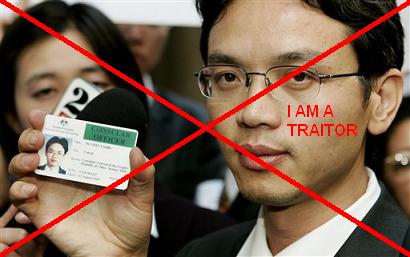 Only this time, it's not against Japan. It's quite interesting, seeing the knee-jerk reaction certain topics arouse in like-minded Chinese. Topics like the FLG, Taiwan, Japan, and now Chen Yonglin.
Australian Chinese Students Patriotic Association urges the Australian Immigration to refuse his application for political asylum and send him back to China. Simply because Chen is now a traitor of his home country,a criminal (Treason is a crime in most countries) and he doesn't do any good to Australia and its people.He also lied to the Australians about what he claimed because only by doing so,he can convince the Australian Government his life is in jeoperdy so that he can get asylum.Most importantly his allegations of some 1000 Chinese spies(ridiculous) and possible revealing of classified informations may cause serious problems to the ongoing relations between China and Australia and the free trade talks that worth many billion dollars(FTA).

Today on behalf of Australian Chinese Students Patriotic Association and many other Chinese students in Australian universities I called the immigration and expressed my concern about how this matter may hurt sino-Australia relations and requested the immigration to handle this case in term of interests of both Australia and China.I told them why and how MR Chen lied and what consequences can be caused if a traitor is granted asylum.An immigration officer answered my call and promised me that Australian Immigration will look at his case and make a decision under the law.

Look at this ugly face!! A traitor,a lame-ass dickheadness,if it were up to me,I'd kill this punk.
Gee, a bit harsh, don't you think? Here are some samples of the scholarly, deeply analytical and well-researched comments:
fuck him,if australia allows him to stay,i'll tell all my friends not to buy australian products
———-

now the question is-Will Mr Chen be actually sentenced to death if sent back?if not,he must not be granted asylum.Treason is a crime in any country,he deserves punishment for what he's done.Australia is a country of freedom,not a paradise for betrayers.
———–

I'm a Chinese student in Sydney,Chen Yonglin is a betrayer,it's treason.He commited a crime against Chinese law no matter where he is,he deserves punishment by law.Australia shouldn't allow such a betrayer to seek asylum,he is now an enemy of all Chinese.I and many other Chinese students will notify our embassy if we spot him in the street.You got no where to hide,punk!!!!
———–

I hope he is sent back so China can harvest his organs to save lives of true patriots.
I'm glad to see the level of discourse is rising to a level of maturity and responsibility. How come the comments on my own blog can't be so sagacious and gentlemanly?