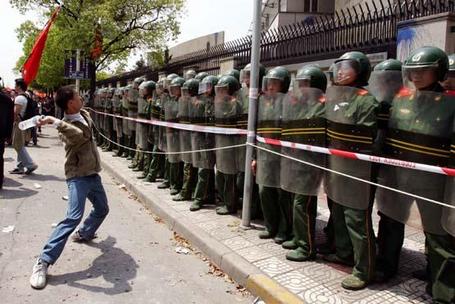 I began writing about China's "blind rage" phenomenon nearly four months ago, long before the current rift catpulted the story onto the world's front pages. Aty that time, I was afraid it was a classic example of ill-conceived overkill: While the claims may have validity (which they do), the modus operandi, I felt, was not only wrong, it was self-defeating. And, most upsettingly, it was apparent the government was subtly encouraging it for reasons of its own.
I think it's safe to say I've now seen my worst-case fears confirmed.
Chanting "Japanese pigs get out," protesters threw stones and broke windows at Japan's consulate and Japanese restaurants in China as some 20,000 people defied government warnings to protest Tokyo's wartime history and its bid for a permanent U.N. Security Council seat.

Peaceful protests were reported in two other cities. Beijing remained calm. Police stood guard on Tiananmen Square to block a planned demonstration in the heart of the capital, a day ahead of a visit by Japan's foreign minister. Paramilitary police surrounded the Japanese Embassy, where protesters smashed windows last weekend.

Japan's Embassy said two Japanese were injured in Shanghai after being surrounded by a group of Chinese, Kyodo News agency reported. The extent of their injuries was not immediately known….

n Shanghai, protesters gathered around the Japanese Consulate. Police in riot helmets kept them away from the building but let protesters throw eggs and rocks. A group of young men broke the windows of a Nissan sedan and flipped it onto its roof.

In a nearby street, protesters broke windows of about 10 Japanese-style noodle shops and bars, many of them Chinese-owned. Others broke the windows of a police car, chanting "Kill the Japanese" after a rumor spread that a man sitting inside was Japanese. The car drove away before the crowd could grab him.

The violence followed a march from City Hall to the consulate by about 5,000 people. They carried banners written in English that said "Say No to Japan in the Security Council" and chanted "Japanese pigs get out!"

Japan filed an official protest, complaining that Chinese authorities failed to stop the violence.
I don't want to talk about the atrocities of the Japanese in WWII, with which we are all too familiar. I just want to pose the simple question(s): Has China derived any benefit from this exercise? Has it improved its standing in the world in any way? Are the world leaders impressed or are they upset by what they see? Is this likely to encourage new investment in China or scare it away? Is this a sign of continued political maturity and wisdom or of a descent into raw emotionalism?
As the article says, now that things are getting out of hand, the CCP is threatening to arrest violent protestors (having dished out plenty of help over the past week). Demonstrations that help take the heat off the CCP are fine — until they start to take on a life of their own and can no longer be choreographed, or at least contained. That's when the CCP gets scared shitless.