Threatening to hold his breath until he turns blue, Roger Simon throws an unusually revealing (albeit pathetic) temper tantrum over the looming probability of a Kerry win:
"As I said on Hugh Hewitt's show the other day, "I'm no Nostradamus. Nostradamus was no Nostradamus." But I do have this prediction:

If Kerry does win, the mainstream media will have gotten him elected with their biased coverage and they will pay for it more than they could imagine. And it will be the blogosphere and you, our own supporters, who will make them pay. Our strength will grow incrementally with a Kerry victory in terms of influence and even economic power. And both will be at the expense of the mainstream media. Yes, we too have 'plans.'"
Oh, my. This is one angry dude. Usually the man in the funny hat has a little more grace, a little more charm, a little more je ne sais quoi. I mean, it sounds like he is vowing vengeance. He has "plans." Quiver. Sounds like he's ready to become a terrorist.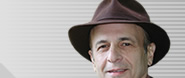 This post will go down in blog history, as it tells us so much about this ostensibly "moderate" blogger who, in revulsion to a wicked liberal media, was forced into the Little Green Footballs camp. Bull shit. Simon is a reactionary, a conscious and persistent falsifier of fact, a deceiver of his readers and, one suspects, of himself. His rants against the "MSM" are so tiresome and so far-fetched they just make me groan. He still insists we are winning the war in Iraq and that things are going well, but the mean liberal media keep distorting things and making it look bad. Boo-hoo.
I want to scream at Simon, "Look, there are all sorts of reporters in Iraq, some with the Wall Street Journal and NY Post and Fox News, and some with the NY Times and WaPo. Despite their differences in tone, they are all telling us essentially the same story from Iraq. The deaths of civilians, the beheadings, the bombings, the 1,040+ US soldiers killed — those are no product of media bias.
Via Pandagon.
Update: And another funny take on Simon's losing his marbles can be found here. There will be many more to come — Simon just made himself the butt of blogger jokes for years to come.
Oh, and James Wolcott, likening Simon to Captain Queeg, remarks, "For some reason, I'm reminded of George Costanza's great soliloquy that begins, "The sea was angry that day, my friends, like an old man trying to send back soup in a deli."