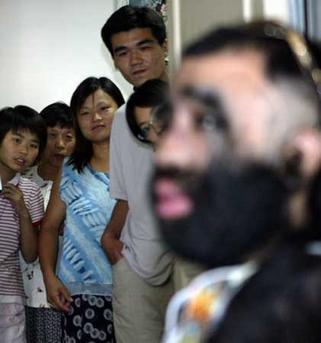 Photo of Yu Zhenhuan
I actually saw this story on CNN this morning. Picture this: Chinese rock musician Yu Zhenhuan is so hirsute, he had to get hair removed from his ears in a surgical procedure in Shanghai because it had reduced his hearing by more than 30 percent.
Doctors said Yu had complained of constant earaches and nausea and had lost one-third of his hearing, Xinhua said.

Yu was recognised in 2002 as the world's hairiest man by the Guinness Book of World Records, Xinhua said.

Yu's body, save the palms of his hands and the soles of his feet, is covered with an average of 41 hairs per one sq cm, a condition doctors term "atavism", it said.

The hirsute 26-year-old Yu, a rock-and-roll singer, made his entertainment debut at the age of six in a movie about "a hairy child's adventure", the state news agency said.
Definitely news of the weird.