No cause for alarm; it's just a small band of thugs.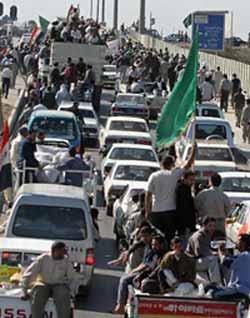 (Lifted from Whiskey Bar.)
This just in, and if true, it is absolutely devastating.
THOUSANDS of Sunni and Shiite Muslims forced their way through US military checkpoints Thursday to ferry food and medical supplies to the besieged Sunni bastion of Fallujah where US marines are trying to crush insurgents.

Troops in armoured vehicles tried to stop the convoy of cars and pedestrians from reaching the town located 50 kilometers west of Baghdad.

But US forces were overwhelmed as residents of villages west of the capital came to the convoy's assistance, hurling insults and stones at the beleaguered troops.

Some 20 kilometers west of Baghdad, a US patrol was attacked just moments before the Iraqi marchers arrived. Armed insurgents could be seen dancing around two blazing military vehicles.

Two US Humvees tried to stop the marchers but were forced to drive off as residents joined the marchers, shouting "Allahu Akbar" (God is greater).

US troops again blocked the highway further west, but were forced to let the Iraqis past as they came under a hail of stones.
I keep hearing on TV — from Rumsfeld, Bremer and all the Fox News staff — that we are up against a small group of thugs. Something here absolutely doesn't click. As John Kerry wondered aloud today, to whom do we turn Iraq over come June 30? I've got a sickening feeling that a lot of those marching against us are the very ones we went to iraq to liberate, at an awful cost in terms of American lives, money and our national reputation.
What now?
[Link via Atrios.]
Update: Good analysis of how we got into this mess. Did we really need to shut down that newspaper? Was it worth it?