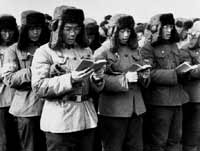 Soldiers studying Mao's Red Book in the winter….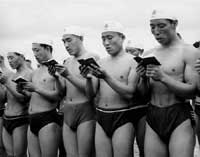 …and doing the same thing in the summer. All Mao all the time.
"You young people are like the morning sun. Hope is pinned on you."
Mao Zedong to a throng of students in Tinanmen Square, 1964
Stop what you're doing and go to the web site for Morning Sun, the new documentary on the Cultural Revolution I wrote about recently.
This site is miraculous. In English or Chinese, it brings the Cultural Revolution to you in a manner that makes it palpable. It is a multimedia experience, with all the music and art and poetry and trappings that made the Cultural Revolution so….unique.
Be especially careful to tune in to the "Cultural Revolution Radio"; as you turn its dials, you're ushered to a new window where a C.R. song plays against backdrops of unintentionally grotesque C.R. "art." Check out all the links in the Multimedia section. They are priceless.
Along with the propaganda photos, there are photos of original C.R. documents, in Chinese (English translation available) — documents that determine the fate of Chinese citizens accused of subversion. The photos can't be cut/pasted — otherwise, this post would be endless, jammed with the remarkable images that adorn just about every page of this site.
To call this a treasure trove doesn't say nearly enough. I'm just unhappy that I discovered it minutes before I have to go out to dinner with my family. This is a site I can pore over for many hours, and return to for years to come. It's big, it's beautiful, it's a living breathing fresco that captures all the elements of the most puzzling phenomenon that was the Cultural Revolution. It is mgnificent.
I got the link via an email from a reader; I'm not sure whether you'd want me to list your name, so I won't. All I can say is, Thank you. I'll definitely be back.