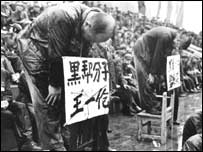 There's a brief but interesting article on a new book by a photographer who managed to photograph some of the Cultural Revolution's most terrible scenes, especially in the countryside.
Mr Li's black and white pictures show mass rallies, ritual humiliations, beatings, executions and passionate revolutionary enthusiasm….

"It's not only you who are shocked by the pictures. I hope if the book is published in China, my compatriots will be shocked too. I want to tell the true story of the Cultural Revolution, to serve a purpose."
I'm not sure how easy it will be to get a book like this published in China; it would sure be a wonderful thing.