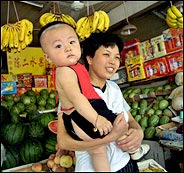 According to today's Times, an age-old Chinese tradition is about to be made extinct, another victim of Western marketing:
For many tourists, one of the indelible images of China is that of the cutie-pie baby wearing the pants with the giant hole on the bottom. If their timing is right, the tourists might even catch a toddler relieving himself, right on the street.

Visitors may find this disgusting, or delightful, but they may not see such sights much longer, at least in the cities. China's famous split pants may soon be eclipsed by the disposable diaper.
The article goes into copious detail about every conceivable aspect of the Diaper Revolution, for those who care.