I really don't get it. The flag of mainland China has never flown over Taiwanese soil. Yet if you search for Taiwan on Google Maps, you'll see they refer to "Taiwan, a Province of China." How can they matter-of-factly call it "a provice" of the PRC? The Taiwanese government is wondering about the same thing.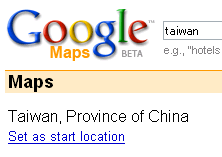 The Taiwan Solidarity Union (TSU) legislative caucus yesterday called on the public to write to Google to protest its listing of Taiwan as a "province of China" on its Google Maps service.

In addition to sending its own letter of protest to the US search-engine giant, the caucus asked the government to lodge a formal protest and request Google to clearly define Taiwan as "an independent state."

TSU caucus whip David Huang (黃適卓) said that Google Maps' definition of Taiwan as part of China was not only far-fetched but also unacceptable to the nation's people.

"Taiwan is an independent, sovereign state. Taiwan is not part of China," Huang said.

"Taiwan has never been ruled by China, nor has the Chinese government deployed any government functionaries or armed forces here," he said…

By listing Taiwan as a province of China, Google Maps is clearly succumbing to pressure from China to distort the international community's perception of the cross-strait situation, Huang said.

"It seriously sabotages the nation's sovereignty. The people of Taiwan should not allow China to spread such misleading information to the international community," Huang said.
I have to agree with them on this one. It's not only blatantly false, it's irresponsible and highly misleading. (And no, I'm not saying Taiwan is – or isn't – independent of China. But it is certainly not a province, like Henan or Fujian.)
Update: I like this take on the story:
No doubt good sense will prevail, with Google siding firmly with Beijing and threatening to invade Taiwan if it attempts to declare itself a sovereign state while taking the intermediate measure of downgrading all existing satellite images of the island to "developing world lo-res" – a fate reserved for only the mostly lowly of nations/provinces