I posted earlier about how height can be a major factor in one's ability to land a dream job in China, and how this results in some terribly unfair hiring practices. Well, leave it to the practical Chinese to find a creative solution.
She's an acting student. She sits in a wheelchair. He's a business major. He relies on crutches to get around.

Each of them willingly had a doctor break their legs and insert steel pins into the bones just below their knees and above their ankles. The pins are attached to a bulky contraption that looks like a metal cage. For six months or so, they will wear this stretching device even though it delivers excruciating pain eased only by medication.

They dial the adjustment knobs daily, forcing the ends of the broken limbs to pull away from each other even as they heal. As new bone grows, the device forces it apart again, resulting in more new bone to fill the gap. Patients on the device typically gain about 3 inches in six months.

It may sound like medieval torture, but people who are determined to stand taller say it's nothing short of a dream maker.

At about $6,000, the treatment is out of reach for the average Chinese urbanite, who makes just more than $1,100 a year. But for some with money, it's a price they're willing to pay. In this increasingly competitive society, height has emerged as one of the most visible criteria for upward mobility.

"I was not tall enough to apply to film school before," said the 20-year-old acting student, who was accepted to the Beijing Film Academy after adding 3 inches to her 5-foot-1-inch frame. The school's website says female acting department applicants must be at least 5 feet 3.
I want to understand the thinking behind such requirements, considering how many great actors and actresses are diminutive (like Dustin Hoffman and Linda Hunt). If anyone can explain how these restrictions benefit the general population, please, enlighten me.
The article explores China's growing obsession with height, which is rather ironic, considering that the man who saved the country, Deng Xiaoping, practically qualified as a dwarf.
Via China Digital Times.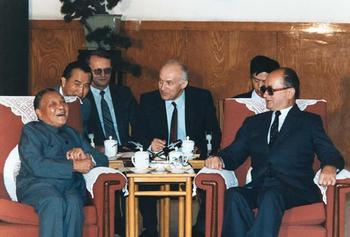 Little people can do great things. Why discriminate against them?