Thanks to a commenter in an earlier thread I found this story about some nasty riots in Chengdu.
Protesters smashed a local Japanese supermarket's windows after a demonstration in China against Japan's bid for a permanent seat on the U.N. Security Council turned violent, Kyodo news agency reported Sunday.

Protesters in Chengdu, Sichuan Province, in southwest China broke the windows of Japanese-owned supermarket Ito-Yokado on Saturday, Kyodo said.

Many Chinese harbor deep resentment of Japan's war-time past and what they see as Tokyo's failure to own up to atrocities.

Beijing estimates up to 35 million Chinese were killed or wounded by invading Japanese troops from 1931 to 1945.

That resentment has fed into opposition to Japan's bid for a permanent seat on the U.N. Security Council, hopes of which were raised in Tokyo after U.N. Secretary-General Kofi Annan seemed to back Japan on March 21 as part of the most wide-ranging reforms to the world body since its creation in 1945.

Domestic Chinese media said last week that millions of Chinese had signed an online petition to oppose Japan's bid for a permanent seat.

More than 10,000 people signed a 10-meter (33-ft) red banner bearing an anti-Japanese slogan in the southern city of Guangzhou. Protesters in two other large cities, Shenzhen and Chongqing, also took to the streets, Chinese media reported last weekend.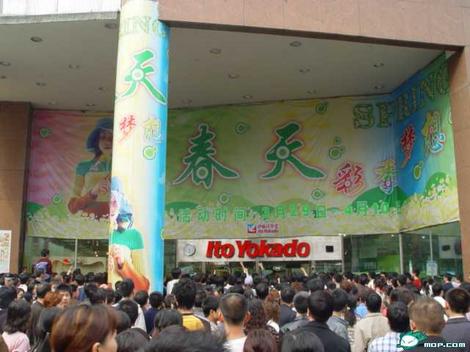 You can also read about it in Chinese and see more photos here.
I can see being unhappy at the prospect of Japan having a UN Security Council permanent seat. But smashing windows at a Japanese store? That sounds just a bit out of control, not to mention self-defeating.