This is stolen verbatim from ESWN, and it's a high compliment to a site I hold in the highest esteem.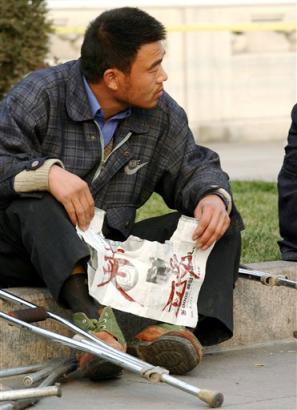 (Associated Press) A disabled man holds a sign which offers his kidney for sale, on a sidewalk in front of Beijing's Tiananmen Gate Wednesday Dec 8, 2004. Sales of organs are controversial in China with some people offering them for sale as a way out of poverty. China has also been accused of harvesting organs from executed prisoners. Prices for kidneys can reach up to 500,000 Yuan (US$60,500) each.
If there were a Mendicant Creativity Award, this guy would win my nomination.