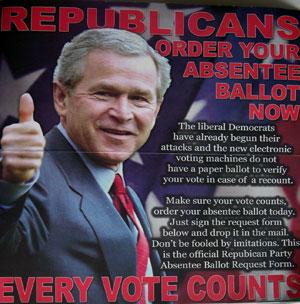 Can you read that? It's from a GOP flyer telling Florida Republicans that electronic voting machines are unreliable because they don't leave a paper trail. Never mind that jeb bush and his cronies are assuring voters that the machines are safe and there's no cause for alarm. Never mind that they're promising Democrats the machines are foolproof, while mailing Republicans to tell them the machines might lose their ballot!
Something here smells really bad. How can they now argue the machines are reliable? How can they claim the election is fair if they themselves are saying beforehand that the votes can't be accurately counted?
It should be obvious now to everyone that we are heading toward a major train wreck in Florida yet again, and it may be even worse than last time.
Photo and story via All Spin Zone, which also has some good commentary on this bleak situation.