That's what a commenter asked me a few minutes ago, even after I said I didn't want to address this subject. Well, too late now. After I wrote my reply, I decided it was worthy of its own post:
Genocide has been here forever and it will probably never go away. Turks and Armenians, Serbs and Croatians, Pol Pot and the Cambodians, Chiang Kai Shek and the Communists, Stalin and Lenin and Mao against the aristocracy and bourgeoisie. In terms of numbers, Stalin may have murdered more than Hitler did, and Mao just may top them all. So why does the Holocaust stand apart?
The Germans were a people that had attained an unmatched level of civilization — lliterate, educated, sophisticated and artistic. They had brought the world some of the very greatest geniuses, Bach and Mozart and Kant and Nietzsche and Goethe and Heine, to name just a few. That this most-refined society then descended to the point where barbarism was licensed and actively encouraged is one of the great anomalies of history, and new books come out every year as to why Nazism was able to take root and thrive.
The Nazis inflicted this barbarism against the people of Eastern Europe in a way that is literally unimaginable. This in itself is extraordinary enough considering Germany's great culture. But then, just when we know they couldn't get any more monstrous, they bring us The Holocaust.
Here was something that no one could have envisaged because it was simply beyond the scope of human capabilities. An advanced society, technologically adept and renowned for its efficiency and force of will, actually turns this knowledge and skill and determination to a cause so profoundly evil, so totally bad that even today, 60 years later, we try to grapple with it, usually without success. For the first time in man's history, modern assembly-line efficiencies and state-of-the-art technologies were implemented for the primary purpose of exterminating an entire race of people. The sheer level of collaboration and organization is staggering. And it showed us "sophisticated Westerners" just how thin our veneer of civilization really can be.
At least when Stalin and Lenin ordered the mass shootings after the glorious revolution they believed (deludedly and insanely) that they were shooting active, threatening enemies. In the case of the Jews, the Nazis butchered babies, children, mothers, husbands, grandparents, teens — people who had posed literally no threat, who had done nothing aside from exist. Yet their mere existence was cause enough to invest billions of dollars into the gulag of death camps that would commoditize the mass murder of innocents.
There are many other aspects of the Holocaust that set it apart, like the wanton cruelty of doctors educated in the world's finest universities. (And when I say cruelty, I mean really, really cruel.) Man's inhumanity to man is an old story. But never did we see it displayed like this in the modern age and in the Western world, which had supposedly been reshaped by the Enlightenment into a more tolerant and rational society. It was a grotesque hiccup of history, as though in an instant an entire modern society dropped through a time warp into the dark ages.
There is a reason why the Holocaust has the mystique it does, why it is so disturbing. Unfortunately, "the Holocaust industry" has exploited it, created several myths and in some cases exaggerated its history. But that doesn't take away from what actually happened. Genocide was a thing of the past in Europe. It was from a darker, more violent age. And then the unthinkable happened, and we were forced to face the fact that there is a dark side to man, no matter how civilized or educated he may be.
It's a subject I can go on and on about. Studying the Holocaust offers infinite insights into all aspects of man, from the most base to the most noble, and it will always stand apart as one of the great aberrations in man's history, and one that must never be forgotten. Men were capable of doing it then, and we can repeat it at any time if we fail to remain vigilant against intolerance, hatred and tyranny.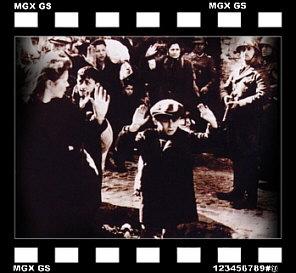 The most poignant photograph ever captured?