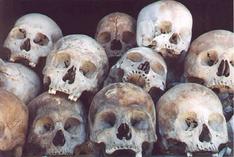 Pol Pot's legacy: Skulls of the killing fields
The Khmer Rouge Killing Machine sounds like a movie that's torture to watch, but that I'll certainly have to see, having been bewildered and intrigued by the Pol Pot phenomenon for decades now. A superb if wrenching article on the film, by an eyewitness to what Pol Pot wrought, takes you right there.
With tiny swifts rising and falling almost to the ground the only movement, I walked along a narrow dirt road at the end of which was a former primary school called Tuol Sleng. During the Pol Pot years it was run by a kind of gestapo, "S21", which divided the classrooms into a "torture unit" and an "interrogation unit". I found blood and tufts of hair still on the floor, where people had been mutilated on iron beds. Some 17,000 inmates had died a kind of slow death here: a fact not difficult to confirm because the killers photographed their victims before and after they tortured and killed them at mass graves on the edge of the city. Names and ages, height and weight were recorded. One room was filled to the ceiling with victims' clothes and shoes, including those of many children.

Unlike Belsen or Auschwitz, Tuol Sleng was primarily a political death centre. Leading members of the Khmer Rouge movement, including those who formed an early resistance to Pol Pot, were murdered here, usually after "confessing" that they had worked for the CIA, the KGB, Hanoi: anything that would satisfy the residing paranoia. Whole families were confined in small cells, fettered to a single iron bar. Some slept naked on the stone floor. On a school blackboard was written:

1. Speaking is absolutely forbidden.
2. Before doing something, the authorisation of the warden must be obtained.

"Doing something" might mean only changing position in the cell, and the transgressor would receive 20 to 30 strokes with a whip. Latrines were small ammunition boxes labelled "Made in USA". For upsetting a box of excrement the punishment was licking the floor with your tongue, torture or death, or all three.
How the people of Cambodia, famous for their gentle smiles, came to be radicalized under Pol Pot was debated briefly between me and a commenter a few days ago. The reviewer, John Pilger, enlightens us at the end of the article.
The genocide in Cambodia did not begin on April 17 1975, "Year Zero". It began more than five years earlier when American bombers killed an estimated 600,000 Cambodians. Phosphorous and cluster bombs, napalm and dump bombs that left vast craters were dropped on a neutral country of peasant people and straw huts. In one six-month period in 1973, more tons of American bombs were dropped on Cambodia than were dropped on Japan during the second world war: the equivalent of five Hiroshimas. The regime of Richard Nixon and Henry Kissinger did this, secretly and illegally.

Unclassified CIA files leave little doubt that the bombing was the catalyst for Pol Pot's fanatics, who, before the inferno, had only minority support. Now, a stricken people rallied to them. In Panh's film, a torturer refers to the bombing as his reason for joining "the maquis": the Khmer Rouge. What Nixon and Kissinger began, Pol Pot completed. And having been driven out by the Vietnamese, who came from the wrong side of the cold war, the Khmer Rouge were restored in Thailand by the Reagan administration, assisted by the Thatcher government, who invented a "coalition" to provide the cover for America's continuing war against Vietnam.

Thank you, Rithy Panh, for your brave film; what is needed now is a work as honest, which confronts "us" and relieves our amnesia about the part played by our respectable leaders in Cambodia's epic tragedy.